We are a small family Orchard specialising in berries, cherries and stone fruit. We are open 7 days and you'll find us 4ks north of Roxburgh on the State Highway. Look for our sign and stop in on your way past – discover our hidden treasure behind the house.
Grab yourself some of our beautiful fruit and berries, picked and packed fresh daily. If you have some time, why not pick your own raspberries and cherries – available at limited times throughout the summer.
A bit about us: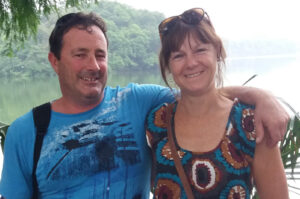 Bill & Leonie Patrick 
We moved here in 2005, and haven't left. We've found our paradise. We believe fresh is best – supplying direct to the public.
Over the years we have expanded our crops to include numerous berries, several varieties of cherries, plums, peaches, apricots, nectarines and the yummy old favourite – greengages. We also grow a variety of vegetables – tasty hothouse tomatoes, zucchini, peas in the pod and freshly dug potatoes, to name just a few.
Come and have a look – we are happy to help you.